Other products
Precision Stone buckets, ATV seeder, Buster Bar
Stone Buckets
We originally introduced this product to the North American market in 1980. Imported from a Swedish manufacturer we were the "pioneers" of this style of stone fork. Our exclusive tine drop tine design lasted until 1995 when local manufacturers started to market copies of the product. In order for us to compete in the marketplace we began to manufacture our own stone buckets in 1998, using the same high quality alloy steel as in the original.
Today there are a number of copies of our original stone fork on the market some of which use inferior quality steel which is subject to failure under rigorous field conditions. We also supply the largest selection of weld on quick attach brackets in the industry.
ATV Seeder
We have this product built to our specification by an outside firm. It is designed as a durable, heavy duty seeder for use behind ATV's, UTV's or Lawn and garden tractors. With a cast aluminum fan, galvanized hopper, stainless steel agitator and cast iron base it is designed for years of trouble free use. Each seeder is supplied with a rack mount kit or a receiver hitch as requested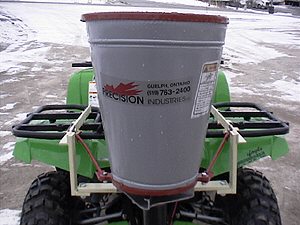 Buster Bar
Built in house for use behind secondary tillage tools such as cultivators or disks the buster bar is a great way to level out your field and break up clumps of dirt to achieve seed bed conditions. Please go to Buster Bars for pricing.

ALL PRICES IN US FUNDS
PRECISION INDUSTRIES GUELPH LTD., P.O. BOX 3613, GUELPH, ONTARIO, CANADA
PH. 519-763-2400, FAX 519-763-3930